So in keeping with my new musical mood, I recently aquired some nice computer speakers and a pro set of headphones.
The speakers are the Klipsch Promedia 2.1 THX certified computer speaker system. These bad boys have gotten awesome reviews everywhere and are well deserving of the praise. The subwoofer is capable of neighbor destroying tight bass, and the satellites bring a depth to music that my old speakers just wouldn't deliver. When I plug my pro headphones into the headphone jack of the speakerset however, there is a slight hiss, which makes the headphone jack somewhat useless. Maybe ne day I will have a 5.1 system attached to my computer for gaming or dvds, but these are great for listening to music.
The headphones I got are the Sennheiser Pro 280HD closed headphone set. I know open headphones are superior to closed ones, but the apartment walls here are pretty thin, and I needed to be able to isolate the sound. These headphones are perfect for that. The point of getting these pro series headphones is for mastering and doing audio editing, but music doesn't sound half bad through them either. They're were designed to send the audio through without any enhancement and do this job fairly well. There are better headphones out there, but these are great for the price.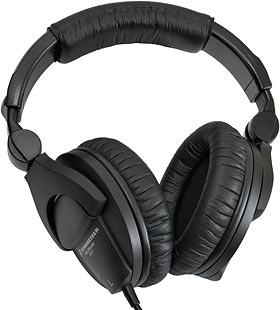 As an aside, "Beautiful" by Christina Aguilera is my current favorite song, if not simply because the recording is so awesomely mastered.